Digisol latest flaghip adapter, DG-BA3370 is available in India via e-commerce online website snapdeal at Rs 1217.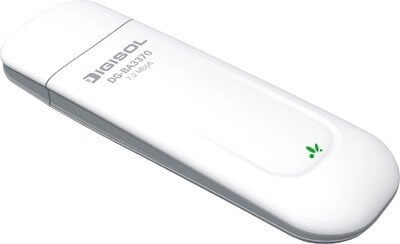 According to the re-seller, the Digisol DG-BA3370 is a 7.2Mbps 3G broadband adapter offers maximum download speed of up to 7.2 Mbps, or can upload a file up to 5.76 Mbps. It gives freedom to access Internet anytime anywhere with advanced features like Voice Call, USSD, Text Messaging (SMS), Mass Storage, Phone Book, etc. Thanks to the Micro SD slot, the 3G USB data card can also be used as a portable storage device, up-gradable up to 32 GB via an external microSD card.
The DG-BA3370 sports an internal monopole antenna with vertical polarization.The modem has built-in standard 6 pin SIM card interface, in line with 3GPP31.101 and 31.102.
The DG-BA3370 boasts LED indicator, Red indicates connected successfully, Blue for Access to UMTS/HSDPA, whereas Orange indicator for access to GSM.
Measuring the DG-BA3370, dongle dimension is 80 x 25 x 10.5 mm (LxWxH), weighs 22gm. The device is available in Silver-White colour.
The modem supports UMTS (3G) 2100 MHz and GSM (EDGE/GPRS) 900 MHz, 1800 MHz, 850 MHz, 1900 MHz frequency bands. This Digisol's plug and play device supports Windows XP, Server 2003, Vista, Server 2008, 7, Mac OS 10.5, 10.6 operating systems.
The features and specifications of Digisol DG-BA3370 3G Data-Card :
Supports SMS, Phone Book, Volume Statistics via Software
USB 2.0 High Speed Interface
Micro SD Slot for Mass Storage, Maximum Capacity up to 32 GB
No-CDROM Required, Auto Installs the Software
Plug and Play Installation
Supports Voice and USSD