Destroy Windows Spying (DWS) is a freeware program that destroys spying on Windows 7/8/8.1/10. It is an open source software which source code can be accessed at GitHub. It completely destroys spying, removes some elements of telemetry and the other turns off. It let you disable Windows Defender, Cortana, and much more. This program disables Windows Update, which allows you to remain anonymous and not to receive updates of new spyware.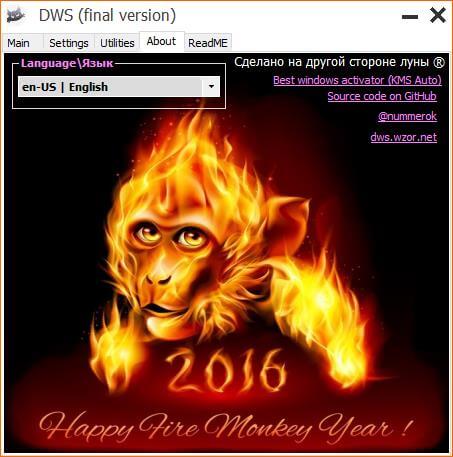 The Destroy Windows Spying (DWS) blocks many IP addresses of Microsoft, which are the data related, and adds the most spyware to hosts. Before applying the setting, make sure that almost all of the program is irreversible and should not be rolled back even after a system restore point.
It supports following arguments for the command line:
/lang= – set the language of the program starts. Example: /lang=en
/deleteapp= – allows you to delete an application Metro in Windows. Example: /deleteapp=bing or /deleteapp=note
/destroy – an argument for removing spyware.
IMPORTANT! Arguments /destroy and /deleteapp= can not be combined, and the argument /deleteapp= can not be used several times.
Under settings DWS let you configure the following:
Delete Keylogger and Telemetry.
Add spy domains to hosts file, and blocks in Windows Firewall.
Disable private settings
Disable windows defender
Set default Windows photo viewer
Disable SPY tasks
Delete windows metro apps
Delete Builder 3G
Delete Camera
Delete Mail, Calendar, Maps
Delete Money, Sports, News, Weather
Delete Groove Music, Film TV
Delete People, OneNote
Delete Phone Companion
Delete Photos
Delete Solitaire Collection
Delete Voice Recorder
Delete XBOX
Apart from the above settings, under the "utilities" tab, it lets you do the following:
Open and edit HOSTS file
Delete all Windows 10 metro apps
Enable / Disable UAC
Delete Office 2016 Telemetry
Fix screen rotate
System Restore
Delete one drive
Enable / Disable Windows Update
Remove all old DWS Firewall Rules
You might be interested in the following Privacy concerned tools:
Windows Privacy Tweaker
W10Privacy
Ultimate Windows Tweaker
Win10 Security Plus
Win10 Wizard
You can download the Destroy Windows Spying (DWS) from here.