PDF stands for Portable Data Format. If you are using computer from a few days, then you must heard about PDF document. PDF is safe than normal MS word document. One can easily transfer the PDF document online. By default Microsoft Windows does not support PDF, hence you need a third party application to convert a document in PDF format. CutePDF writer is a small and free utility, which will help you to generate the PDF front any document.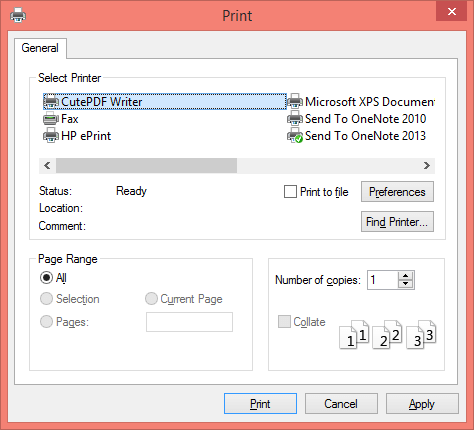 CutePDF writer freeware tool works like a virtual printer. It will sit in your system like a printer. When you will print any document, you will get a printer with the name of CutePDF writer. Just select the printer and print your document. It will convert your document into PDF format, so you can transfer your document safely over the internet or also you can utilize for any another purpose.
CutePDF Writer is safe to use. It comes without malware and adware, however, when you will install it, it try to install toolbar, just decline it and proceed. It creates PDF document without any watermark, so you can use it for professional work also. It is free for both personal and commercial use also.
To work CutePDF Writer properly, it needs PS2PDF converter. The developers recommends Ghostscript (GNU Ghostscript is a free open-source interpreter for the PostScript language and the PDF file format. It is distributed under the GNU General Public License.).
Both latest CutePDF Writer and PS2PDF converter is combined in a zip file, which can be downloaded from the link, which is provided at the end of the article.
The programmer of CutePDF Writer works hard and the team keeps updated it. Presently CutePDF Writer version 3.0 is available, which supports all major Windows Operating System; including 98/ME/2000/XP/2003/Vista/7/2012/8/8.1 (32-bit/64-bit).
If someone is searching for PDF converter, then I will recommend CutePDF Writer first. I have personally tested it with Windows 8.1 and it worked fine.
Download Cute PDF Converter + Ghostscript Free