The latest operating system from Microsoft, the Windows 10 comes with quite a lot of new features and improvements. There are many tweaks you can do on Windows 10 to customize it, using Settings app. Various modification can be done using registry which is not an easy task for novice users.
Win10 Wizard is a free all-in-one configuration tool for Windows 10 that let you tweak various privacy and security settings that are not easily accessible from the standard Windows 10 settings.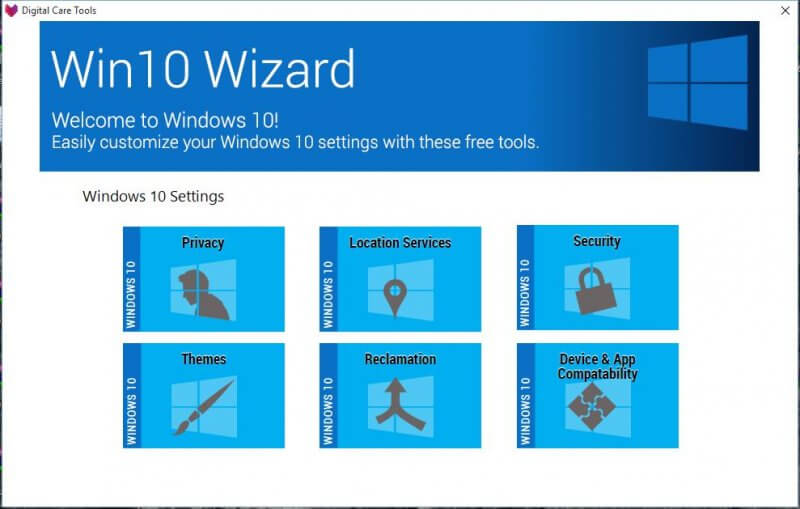 The Win10 Wizard freeware provides tweaks in different categories. It is divided into six parts : Privacy, Location Services, Security, Themes, Reclamation, Device & App Compatibility.
With the help of this tool, you can check for Windows 10 upgrade issues related to drivers, applications, and extensions. Once you have upgraded from Win 7 / Win 8 to Windows 10, you can reclaim hard disk space.
The app allows us to configure biometrics, sharing of data, Cortana data collection, app access to the camera, location services and other features that may be related to security or privacy issues. You can enable dark theme if you are not running the latest build of Windows 10.
Privacy
Under Privacy category, you can disable or enable the following:
Sharing of Handwriting data
Inventory collector
Camera in Logon Screen
Rest Advertising ID and info
App access to User Account Information
Transmission of Typing Information
App Notifications
App access to calendar
App access to Camera
App access to Microphone
App access to Messages
Biometrical Features
Access to local language for browsers
Smart screen filter for URL's
Cortana Reset
Input personalization
Feedback Reminders
Windows 10 Search Extension with Bing
One Drive
Location Services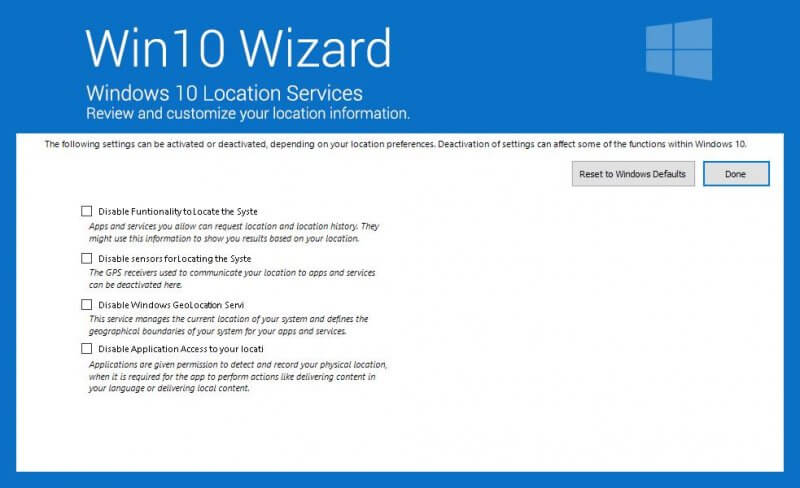 You can enable / disable the following:
Functionality to locate the System
Sensors for locating the System
Windows GeoLocations Services
Application access to your Location
Security
You can enable / disable the following:
Password Reveal
User steps recorder
Telemetry
WiFi Sense
WiFi Sense for my Contacts
App access to Wireless connections
App access to Loosely coupled devices
Internet access to Windows Media Digital rights management
Windows update via Peer-to-peer
Theme Customization
Under Theme Customization category, you can enable or disable the following:
Dark Theme
Windows 10 Volume Control
Windows 10 battery indicator
Windows 10 Action Center sidebar
Windows 10 Network flyout
Windows 10 default Logon Screen Background Image
Windows 10 Clock and Calender version
Windows 10 Start Menu
Start Menu transparent
Reclamation
You can claim your hard disk by running Disk Cleanup tool.
Device & App Compatibility
Under this wizard, you can find out which drivers are not installed, if any applications were removed, and if any extensions were re-associated.
Anytime if you feel that, you have made some wrong settings, there is a "Reset to Windows Defaults" button to restore the settings back. You can download Win10 Wizard from here.
You might be interested in the following privacy focused apps: