Once a new operating system is installed in the computer or upgraded from Windows 7 / 8 to Windows 10, you should create your own Windows 10 System Repair Disc. It will be helpful when you can't even boot into Windows to troubleshoot it. Once you create your own repair disc, it will have all the tools you need to troubleshoot and bring your PC back in working state.
What is the requirement of Repair Disc?
When your PC will be unable to boot into Desktop and even you can't get recovery options, simply insert the Repair disc and boot into it. Now you can start recovery of your PC. You will get the following options:
System Restore: Lets you restore your PC to a previously saved restore points.
System Image Recovery: Can recover your Windows OS using a system image file if you have created earlier.
Startup Repair: Windows can automatically repair Startup.
Command Prompt: If you are expert in Command Prompt, you can use this mode and troubleshoot your Windows to make it serviceable.
Go back to the previous build: If you have upgraded your Windows 7 / 8 to Windows 10 and didn't delete the Windows.old folder yet then you can use this option to go to earlier version of Windows .
Reset this PC: You can reset Windows where all your personal data will be intact, but all the installed programs will be deleted.
How to create your own Windows 10 System Repair Disc?
1. Insert a blank DVD disc in Windows 10 computer.
2. Right-click on Start button and select control panel.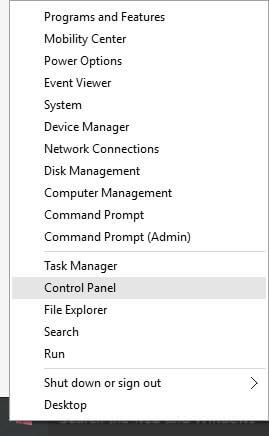 3. Under "System and Security", click 'Backup and Restore (Windows 7)' link.
This feature was launched with Windows 7, and Microsoft has not renamed it in Windows 10 too.

4. From left side pane, click on "Create a system repair disc".
5. Click "Create Disk".
A system repair disc can be used to boot your computer. It also contains Windows system recovery tools that can help you recover Windows from a serious error or restore your computer from a system image.
6. Once "Create disc" clicked, it will start preparing files and will launch DVD Burner.
Once Recovery Disc of Windows 10 created, you can use this disc in case Windows can't boot into Recovery mode normally.
You might be interested in creating System Restore Point so that you can restore your operating system in future to its previous state.