Windows 10 System Repair Disc helps you to recover your Windows OS in disaster. It can be used to System Restore, System Image Recovery, Startup Repair, access Command Prompt, Go back to the previous build and Reset this PC. Earlier we had used DVD drive to create a Repair / Recovery Disk for Windows 10 PC, but in this post, we will do the same in USB drive. You can also create a Password Reset Disk in Windows 10.
How to create a USB Recovery Disk for Windows 10?
1. Arrange a USB disk / Pen Drive with at least 16 GB of capacity.
Note: It will be formatted during the process, so copy the data from USB disk to any another safe place.
2. Click on Start menu and type 'Recovery Drive' in the search box.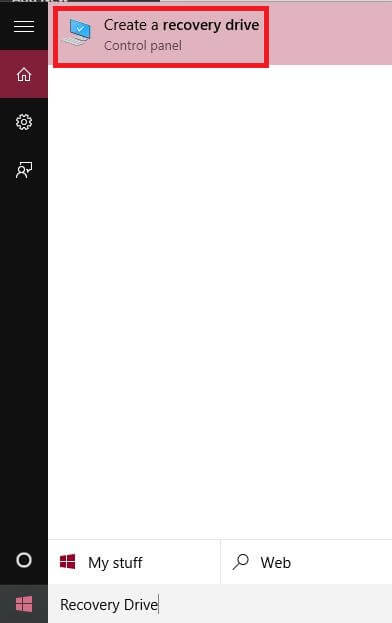 3. Click on "Create a recovery drive" to get the following windows: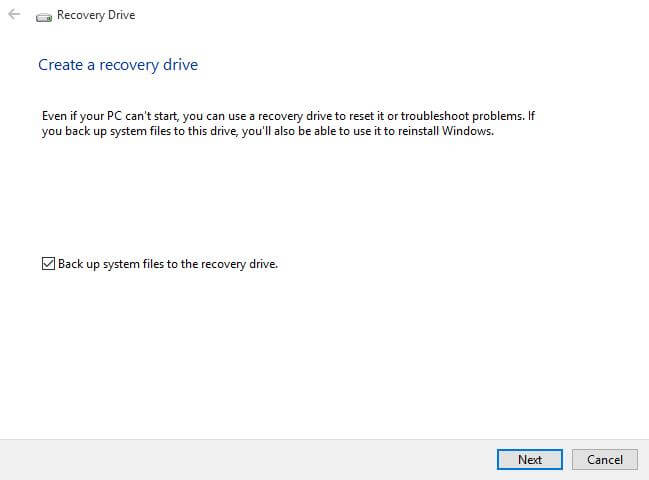 Even if your PC can't start, you can use a recovery drive to reset it or troubleshoot problems. If you back up system files to this drive, you'will also be able to use it to reinstall Windows.
4. Leave checkbox "Back up system files to the recovery drive" ticked and click Next.
5. It will scan for USB disk and will warn you that USB drive will be formatted completely. Click 'Create'.
Wait for the process to be completed.
Now your Windows 10 USB Recovery Disk is ready to recover your Windows 10 OS in disaster.