There may be different situations, that you want to create a new partition or re-size the old partition of Windows 10 or any another operating system. Some of us purchase the laptop pre-installed OS from the market, and we get only one partition, with drive letter "C". If you have only one drive, and suppose your PC crashed and your data is stored in the "C" partition. Then you have to work hard to get the data in a separate place to re-install a fresh windows copy. So, it is suggested that, in a PC / laptop at-least two drives should be there.
Another situation is that, while installing the Windows 10, you have created only one drive in PC and now you want to create further partition.
First, I will cover, how to create new partition in Windows 10 then I will cover about re-sizing of the old partition. These steps will work in Windows Vista, Win 7, Win 8 and Windows 8.1 too.
How to create a new partition in Windows 10 / 8.1 /8 / 7 / Vista ?
1. Right click on This PC / Computer Icon from the desktop (If in your PC, already This PC / Computer Icon is not available then refer this article).
2. Select here manage.
3. Computer management window will be open.
4. Click "Disk Management" from the left pane.
5. Now Disk 0 will be visible. It is your hard disk, which is installed in the PC.
6. Right click on Unallocated space and choose 'New Simple Volume'.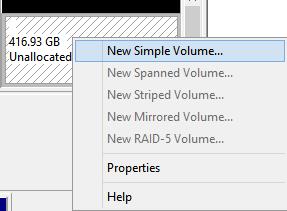 7. A new window will open asking you next. Click Next.
8. Now, it will ask you new partition size. Edit the size according to the need and follow the onscreen wizard.
9. Now you have successfully created a new drive / partition.
Here, in my case, we have created a new drive "G". Now, it is too big and I want to re-size it.
How to re-size partition in Windows 10 / 8.1 /8 / 7 / Vista ?
1. Follow Above mention 1 to 4 steps, then you will get partitions which is available in your PC.
2. Now right click on the desired Volume which you want to re-size and select here 'Shrink Volume'.
3. Put here desired size and click on Shrink.
4. It will create the free space.
5. In the same way you can extend the volume or delete the volume too.