Have you lost your IMEI of Huawei devices in changing the firmware or in the unlocking process. This post will help you in repairing of IMEI / or also you can change the IMEI if you have data lock code.
IMEI is a unique identification of any phones / modems / routers. Without IMEI you can not connect to the internet (especially in India, may in another country too). IMEI remains in a standard format of 15 digits. If a device lost the IMEI, it will show 000000000000000. Means, if IMEI is missing from your device, it remains in "half-dead" state. Meaning it can be repaired and re-used without any problem.
In this post, we will share the details about how to change / repair IMEI of Huawei V4 devices, for instance, E5573, E5577, E3372h etc.
How to change/repair IMEI of Huawei V4 devices (E5573, E3372h etc)?
Detect the device under DC unlocker software.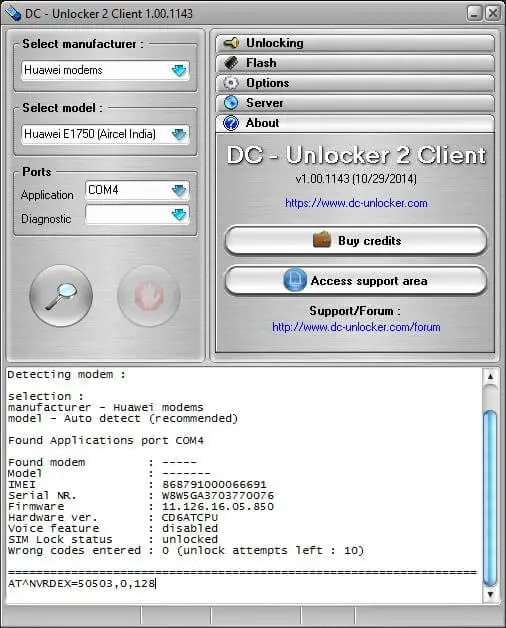 2. Go at the end of the result and paste the following:
*******************
Note: Change the data-lock code with 8-digit data-lock according to your IMEI.
3. Press enter from the keyboard.
4. Response from the DC unlocker should be OK.
Note: Now you have entered in security part of the Huawei device. Now, you can run any supported commands here.
5. To change the IMEI, run the following command:
*********************
Note: Replace the 15 DIGIT IMEI NUMBER with your actual IMEI, which is printed on your device.
Now again responses will OK and your IMEI has been successfully changed.
A big thanks to Hassan Raza for sharing this tips!
Update: We need screenshot of the device where IMEI is written to repair the IMEI. Also you need to provide address proof.