BSNL has launched two multi-purpose feature phone, called it Champion SQ181 Pro and Champion SQ181 Power. The cellphone is priced with Rs 850 and Rs 975 respectively and can be purchased from Flipkart or Snapdeal.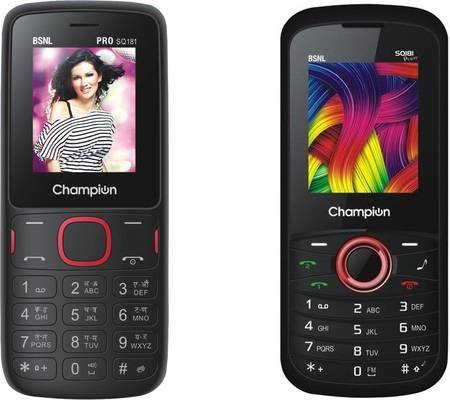 The new BSNL Champion SQ181 Pro is a Dual SIM phone and available in only black colour. It has 1.8 Inches display (128 x 128 Pixels) and comes with a VGA rear camera. It is backed by Li-Ion 1000 mAh battery and has 32MB of RAM. It has memory card slot, which is expandable up to 8GB.
The latest BSNL Champion SQ181 Power is also a Dual SIM feature phone, available in black and white variant colours. It boasts an 1.8 Inches (128 x 128 Pixels) display and houses a VGA rear-facing camera. It packs a Li-Ion 2200 mAh battery with USB connectivity. It has 32GB RAM and supports microSD card up to 8GB.
The main different between BSNL Champion SQ181 Pro and BSNL Champion SQ181 Power are, Pro comes with 1000mAH battery while Power comes with 2200mAH battery. Notably, all other specs are similar.
Key specifications of BSNL Champion SQ181 Pro :
Dual SIM, Dual Standby
1.8 Inches display (128 x 128 Pixels)
0.3-megapixel rear camera
Li-Ion 1000 mAh battery
32MB RAM
memory card slot, up to 8GB
Key specifications of BSNL Champion SQ181 Power :
Dual SIM, Dual Standby
1.8 Inches (128 x 128 Pixels) display
0.3MP rear-facing camera
Li-Ion 2200 mAh battery
USB connectivity
32GB RAM
supports microSD card, up to 8GB
BSNL company says on the launch of Champion SQ181 Pro and Champion SQ181 Power, "We are committed to offer the rich media experience and simple functionalities combined with quality to our customers at an affordable price. Both the series of 'Apna Phone' SQ181 are available through retailers with plans in southern and western parts of India."