Windows 10 operating system comes with various new features, but it can not fulfill the requirement of everyone. If someone wants to block any program from running in Windows, one has to go through group policy editor or have to use a freeware like Program Blocker. AskAdmin is another freeware tool that lets you block programs in Windows.
What is the requirement of AskAdmin?
Suppose, you are going somewhere for few hours you are handing over your PC to your child or friend. Because of security or privacy reasons, you might do not want to allow some of the programs. You can't uninstall and re-install it when required. Better, you may want to use AskAdmin to block programs from running.
Alternatively, you can create a guest account but it is so easy for everyone. Instead of creating a guest account on your PC, you may prefer to install AskAdmin to block particular apps on your computer.
How to block programs from running in Windows 10 using AskAdmin?
2. Install it in PC and run it.
3. To block any installed app in your PC, click on the green plus sign.
4. Locate the .exe file to block a program.
Note: You can find installed apps in Program Files folder or Program Files (x86) folder on your system drive (C Drive).
Here noticeable thing is that you can block any other files too such as text file, word file etc using AskAdmin. For that, you have to select All Files while choosing an app or file after clicking on the green plus button.
5. Once .exe file selected, a new box will open with the following message, "To apply the settings windows explorer need to restart! Do you want to restart Windows Explorer?".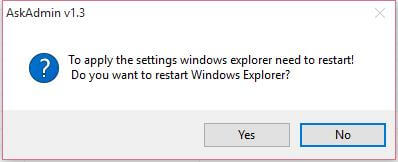 6. Click Yes.
Now when you will try to run the blocked apps, you will get error with the following message:
Windows cannot access the specified device, path, or file. You may not have the appropriate permissions to access the item.
AskAdmin freeware is compatible with Windows 10 , Windows 8.1 , Windows 8 , Windows 7 , Windows Vista and Windows XP – (both x86 and x64).