Binatone has launched a 3G WiFi MiFi Router, which also works as power bank, can be useful in charging the mobile phone, smartphone, tablets etc.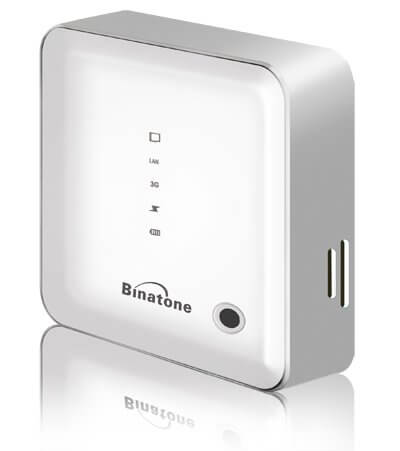 The latest Binatone (BMF3G2160) 3G WiFi MiFi Router lets you you create Wi-Fi hotspot easily, which can provide internet up to 10 Wi-Fi enabled users. It boasts a built-in SD card reader, can be upgraded with up to 32 GB for Wireless Files Sharing. It is a plug and play device which offers download speed up to 21.6 Mbps and upload speed of up to 5.76Mbps.
The Binatone power banks comes with Inbuilt 5000mAh battery, offers 12 hours of battery life and also lets you charge your handset easily. It is listed in Amazon India with a lowest price Rs 3350. It is featured with Open, WPA-PSK and WPA2-PSK Wi-Fi Security.
Commenting on the launch of Binatone 3G WiFi MiFi Router, S.P. Singh, Country Head, Binatone says, "We always try to design and create utility driven devices that fulfill multipurpose needs. 3G Mi-Fi Router has an inbuilt power bank that provides power supply to mobile devices while creating a hotspot for multiple users. With a download speed of 21.6 Mbps, we have tried to address the need for a high speed broadband facility at all times."
Binatone 3G MiFi Router (Power Bank) can be used in Win XP, Win7, Win8, Linux, MAC & other oprationg systems also. GSM/ GPRS/ EDGE:850 / 900 / 1800 / 1900MHz and HSPA+/HSUPA/HSDPA/UMTS:2100(850/1900Mhz optional) operating frequency bands are supported.
This Binatone product measures 6 x 6 x 2 cm, and weigh is 200 gm.
The main specs of Binatone 3G WiFi MiFi Router with Power Bank :
Supports up to 10 users
Inbuilt 5000mAh Power Bank to charge smart Phone/ Tablet
Support Micro SD card memory up to 32 GB for Wireless file sharing
Support Wi-Fi Security Open, WPA-PSK, WPA2-PSK
Plug & Play