There are a lot of freeware's available over the internet for Windows PC, and we keep installing. It is always recommended to keep your Windows OS and installed software's updated. But, it is very difficult to keep track on all of them and update them regularly. Missing out an update is possibly you compromising with the security and stability. The new software updates do not only provide you with new features but also fixes older vulnerabilities. Avira Software Updater is a free application update checker tool for Windows PC that lets you update installed applications as well notify you when any updates are available by the developers. This tool comes from Avira, a well-known Antivirus software.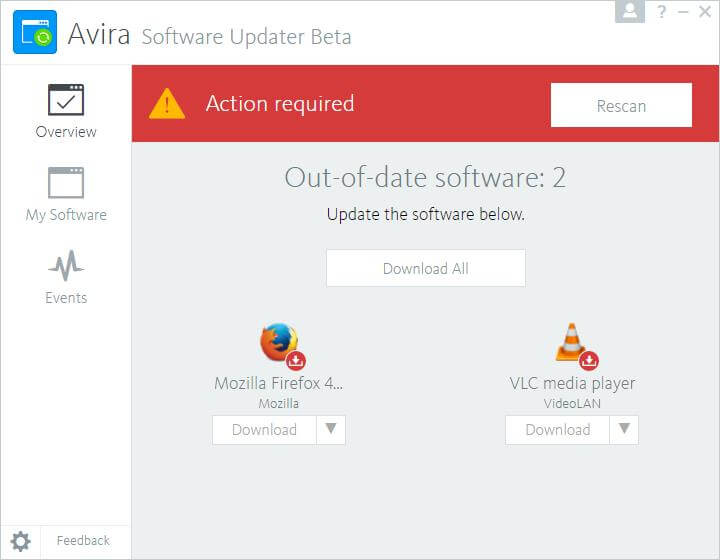 While installing the Avira Software Updater in your PC, it suggests a lot of other applications to install, so you need to skip them if you don't want any of them.
Once you have downloaded and installed in PC, when you run it, this freeware scans for outdated applications and the results will be in front of you.
Once PC is canned by Avira Software Updater, it will show the results with the number of outdated applications followed by the detailed analysis of scan. You can download updates for all the applications or you can choose to download updates manually by clicking the relevant update button. You can hover over the application's down arrow icon to view further details such as the installed version and available update version.
Under the My Software tab, you can view all the installed applications on your computer that are monitored by Avira or not.
Finally, under the Events tab, you can view the log or the list of event occurred from the time of installation of the tool.
Overall, the Avira Software Updater is a great tool that monitors your installed apps. It is quite easy to use.
Glary Software Update is another free tool that notifies you when any update is available.
You might be interested in Glary Utilities that is all-in-one Optimization software for Windows PC.
You can download Avira Software Updater from here.