Disk Cleanup is a basic maintenance tool that comes as a part of Windows operating system. The Disk Cleanup tool allows you to free up hard drive space which is unnecessary and occupying the space. This tool quickly finds and deletes the temporary files such as previous Windows installation files and updates, which is not required further by your computer.
Yet in Windows 10, Microsoft has not improved it, and you have to run it manually to clean your hard disk. But, in this post, we will see how to run disk cleanup tool automatically to clean your computer.
How to automatically clean hard drive space with Disk Cleanup tool?
1. Right click on start menu and select Command Promot (Admin),
or, press Windows Logo + X key from keyboard to open the Power User menu and select Command Prompt (Admin).
2. Type the following command and press Enter from keyboard:
cleanmgr /sageset:11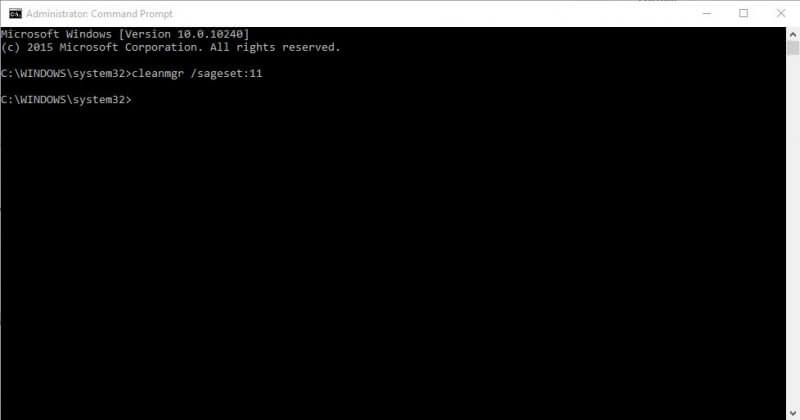 Above command (switch /sagest:n) is to open the Disk Cleanup settings and at the same time creates a registry key that is used to store the settings you choose. You can use anything from 0 to 65535 for n value. It is basically like a filename that points to all the specific settings you want to use. This way, you can set different numbers to run the tool with different settings at different times. This is useful if you want to automate different types of settings at different times.
3. "Disk Cleanup Settings" will be opened.
Check the files you want to remove automatically from your system. You can choose from a huge list:
Temporary Setup Files
Old Chkdsk files
Setup log file
Windows Update Cleanup
Windows Defender
Windows upgrade log files
Downloaded program files
Temporary internet files
Offline web pages
System error memory dump file
System error minidump files
Files discarded by Windows Upgrade
Branch Cache
Recycle Bin
Temporary Files
Temporary Windows installation files
Thumbnails
User files history
Windows ESD installation files
4. Once appropriate files selected, click the OK button.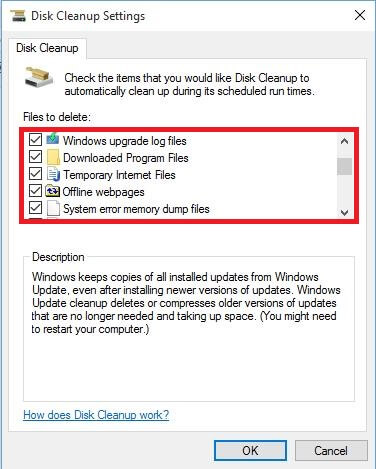 Settings will be saved and stored in the registry.
5. Click on Start button from the Taskbar and search for Task Scheduler.
6. From the results, click on Task Scheduler to open this utility.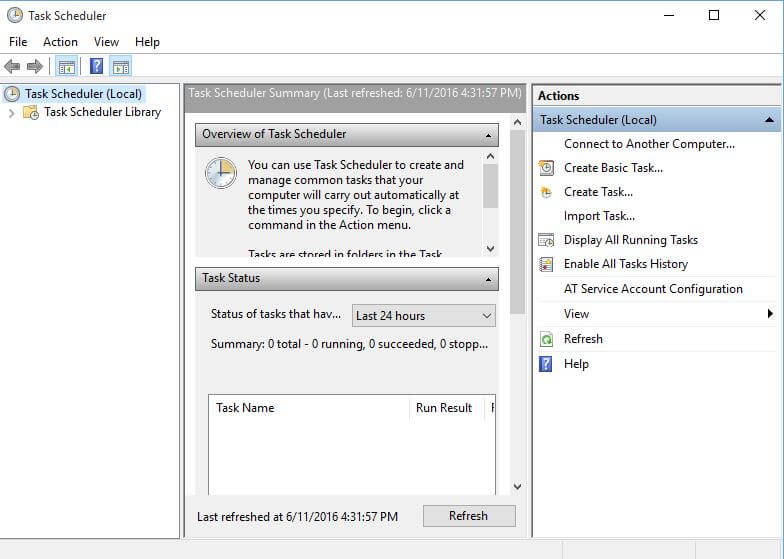 7. Right-click on Task Scheduler Library from the left pane and select "Create Basic Task".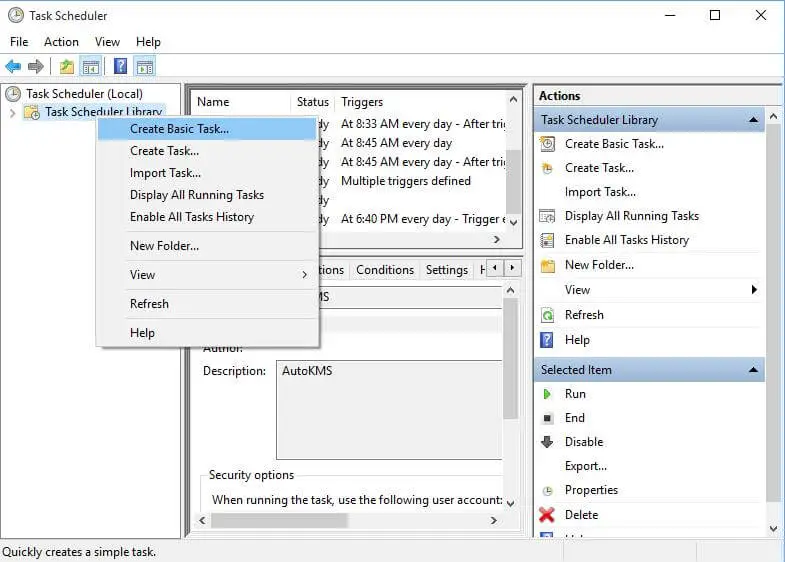 8. Name the new task, add a description, then click Next.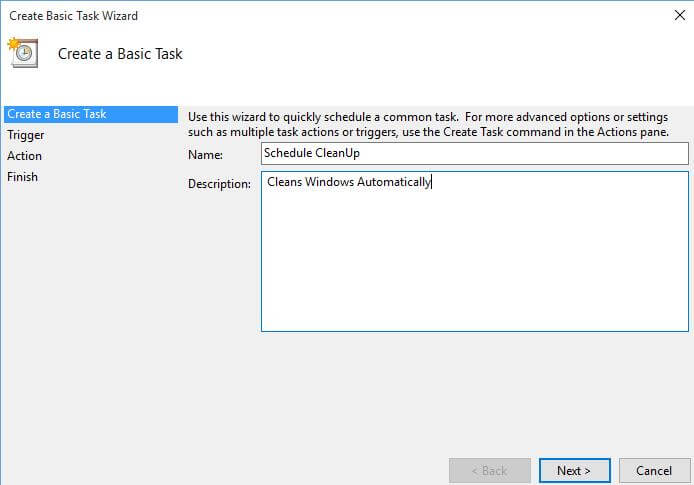 9. Select the schedule when you want to run this utility. You can choose from Daily, Weekly, Monthly, 'One time', 'When the computer starts', 'When I log on', and 'When a specific event is logged'.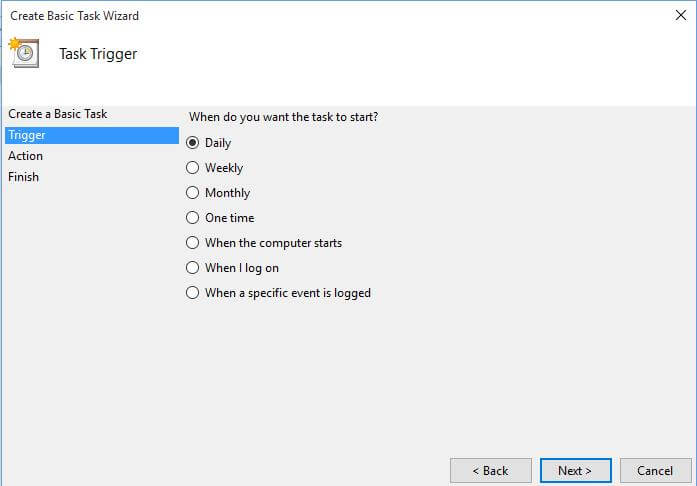 10. Click Next.
11. Select date and time, when you want to run this tool.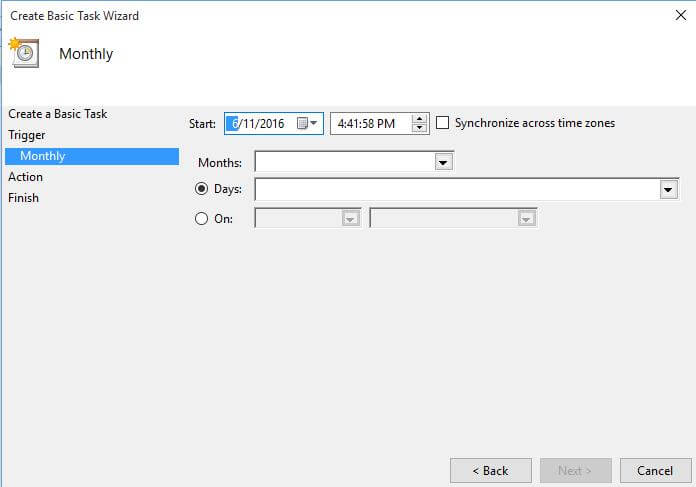 12. Choose 'Start a program' and click Next.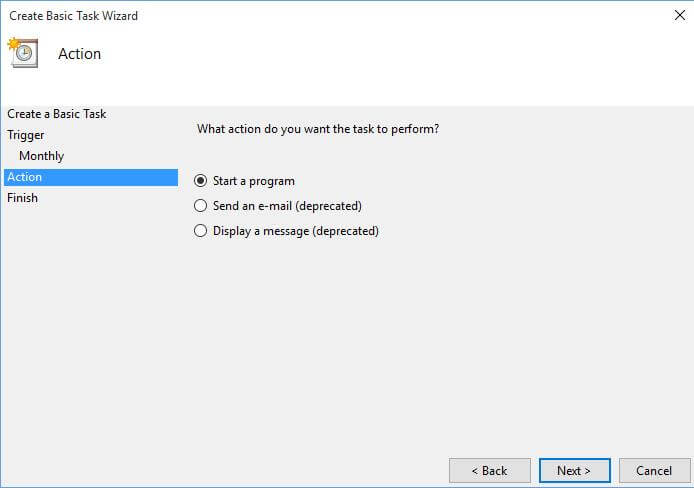 13. Under 'Program/script' box type the path of the Disk Cleanup tool: C:\Windows\system32\cleanmgr.exe and in the 'Add arguments" type the /sagerun:11.
Note: Change the number 11 to the number you have used in step 2.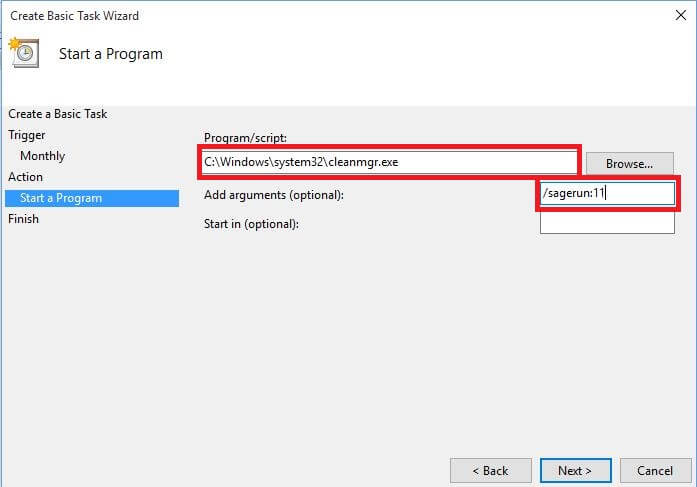 14. Click Next.
15. Click Finish.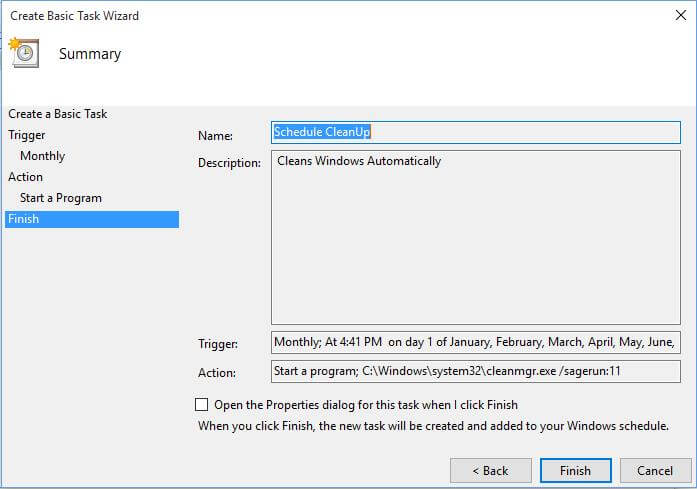 Once you have successfully created the task, the Disk Cleanup tool will run at the specified time. It will delete all unnecessary files from your computer.
If you want to run it manually at any time, type of the following under command prompt (Admin) :
C:\Windows\system32\cleanmgr.exe /sagerun:11
Note: Change the path of cleanmgr, if you have installed your Windows OS other than C: drive. You have to also change the number 11, if you have used any other than this in Step 2 above.
If you don't want to go with a so much long process, simply install a disk cleanup utility and let it work for you. CCleaner are Glary Utilities the popular freeware that can be trusted.