Registry is an important part of Windows computers, and one should take care. Auslogics Registry Cleaner is a freeware tool that helps you in enjoying an error-free computer. I have already shared Wise Registry Cleaner, CCleaner, JetClean, YL Software WinUtilities Free and Windows Manager apps to optimize the Windows registry.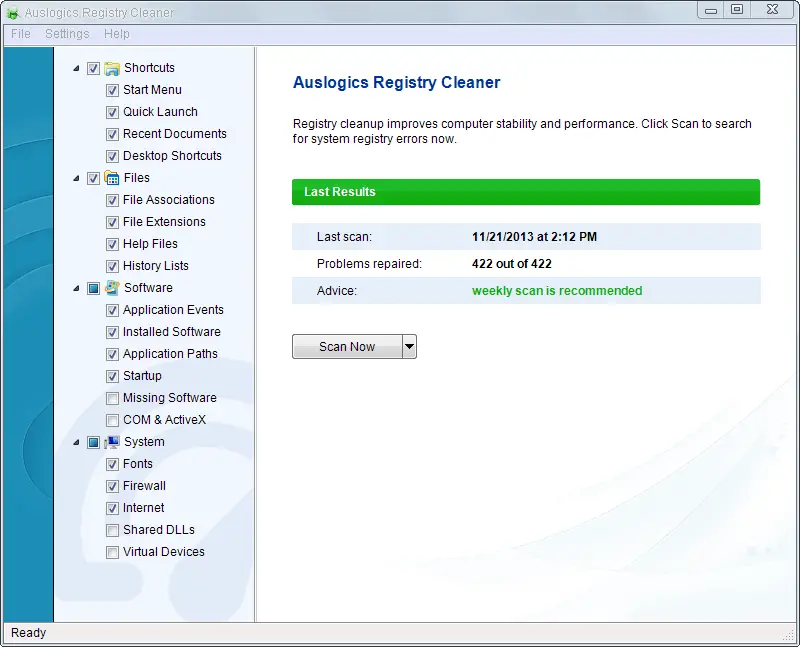 Is your Windows PC / laptop freezes, crashes, errors popping up or application response slowdown? These issues may make your computer hard to use by significantly reducing its performance. Your PC may crash fully in a few days and you need to re-install the Windows operating systems again.
What is the solution? A simple answer – Auslogics Registry Cleaner. The Auslogics  Registry Cleaner will clean, repair and optimize your Windows registry to eliminate errors and crashes, and to restore smooth and stable operation, so your PC will stop giving you headaches and be usable once again.
The Auslogics Registry Cleaner is also a free software and comes with easy and useful user interface so that one can easily optimize his PC. The team regularly update the program and presently its version 3.4.5.0 is available for download.
The Auslogics Registry Cleaner is fully compatible with Windows XP, Win Vista, Win 7, Win 8, Windows 8.1, and Windows 10. When you run this tool, it creates the system restore point, so in disaster, you can restore the PC the older time.
In my reviews, Auslogics Registry Cleaner is a nice application, and you should give a try. You can download Auslogics Registry Cleaner from here.