Regular disk defragmentation can boost your PC speed smartly. There are various freeware available which can defrag the hard disk of your computer to speed up the performance. Auslogics Disk Defrag is a free tool which can perform well for your need. Presently its latest version 4.5.4.0 is available for download and can be grabbed from the link which is provided at the end of the article. It works with all windows operating systems, e.g. Windows XP, Vista, Win 7, Win 8 and Win 8.1.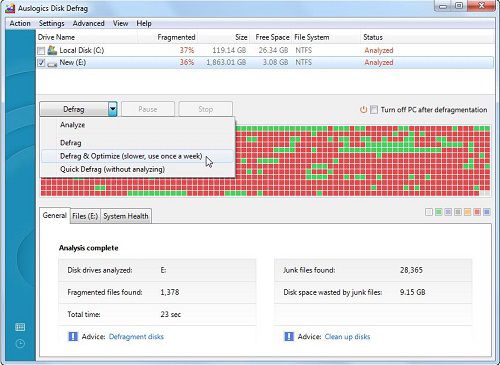 Auslogics Disk Defrag is a compact and fast defragmentation tool that supports both FAT 16/32, and NTFS file systems. It is free for personal use and comes with a simple user interface so that a novice person can also use this tool.
One of the most important features the application comes equipped with is the schedule option. Just enable the schedule, you are able to fully customize when and what should be performed. You can set the application to run its processes when the computer is idle for a given amount of time, daily, weekly, as well as monthly.
Along with the defragmentation, the application lets you run an optimization process to increase your hard disk drive's efficiency. These all features can be applied in both integrated or removable drives. It is hardly 6MB in size, so you must try once. You can download the latest version of Auslogics Disk Defrag from here.