We have already mentioned the unlocking of Huawei's E585, R205, and E589 WiFi MiFi routers. In this post, you will find the steps to create a new profile or APN settings in Huawei E585, Vodafone R205, E589, ZTE MF30, ZTE MF60 WiFi MiFi hotspots. Without creating a correct profile you can not connect to the internet.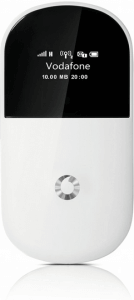 How to Create a new Profile in the Unlocked E585, R205 (Pocket WiFi Pro), E589, MF30, MF60 WiFi MiFi hotspots?
1. Sufficient charge your E585, R205 (Pocket WiFi Pro), E589, MF30, or MF60 WiFi / MiFi hotspots and connect to PC using WiFi or USB cable.
2. Login to the device and browse for its default IP address (192.168.1.1 or 192.168.0.1).
3. Go to Settings or Tools (It may be slightly different as per the network provider).
4. Here choose Dial-up / Options.
5. Go to Profile Management and click on New.
6. Put in the Profile Name and APN as per your network provider.
Note: Make sure to choose "static" option for APN. If your network requires username and password, enter accordingly. Put *99# in the Dial-up number if required and leave other fields blank (like password).
7. Click on Save to save your created profile.
8. Now go to Mobile Connection and select the new profile from the Profile List and choose to Apply.
Now you have followed every step and you are ready to surf the internet now.
Note: It may be slightly different, you have to figure out where to create the profile in unlocked E585, R205 (Pocket WiFi Pro), E589, MF30 or MF60 WiFi MiFi hotspot router.
Note II
: Unlocking of E585, R205 and E589 are supported and the charge is 2.38USD. While MF30 and MF60 unlock code charge is 6USD. You can pay the correct amount at
PayPal
. While paying mention model with IMEI in the transaction. Correct code will be emailed within 8 hrs.