Alcatel Onetouch has announced Pop2 smartphone and tablets which is running on Android 4.4 KitKat platform and powered by Qualcomm's first 64-bit LTE processor. The Alcatel OneTouch Pop 2 and Pop 8S are powered by Qualcomm's Snapdragon 410 processor.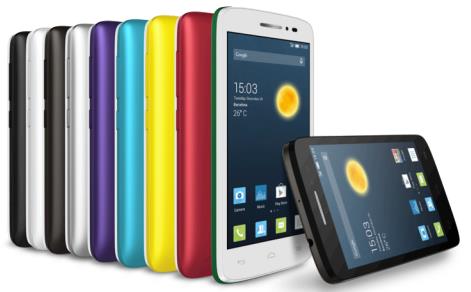 The Alcatel OneTouch Pop 2 is available in two variant sizes 4, 4.5, 5, and 5.5 inch. It comes in Lemon Yellow, Lavender, Jade Green, Cozy Red, Aqua Blue, White, Platinum Silver, Ash Gray and Volcano Black variant colours. The phone also comes in two sim variants models : 5042X / 5042F / 5042A / 5042W / 5042G models are single SIM variant while 5042D / 5042E are dual-SIM variant models.
The OneTouch Pop 2 is powered by Quad Core 1.2 GHz CPU with 1GB of RAM. It has also 8GB of internal storage which is further expandable with up to 32GB of microSD card. It packs a 2000mAh Lithium battery which is rated for 12 hrs of 3G talk-time and 400hrs of standby time.
The POP 2 family also includes an 8-inch tablet, the POP 8S. It also features 4G LTE speed at a smart price in variants of colours. At 7.9mm thin and weighing only 309 grams it is ideal for carrying. It is also powered by a quadcore processor and equipped with a 5 Mpxl rear camera (EU) or 3 Mpxl rear camera (LATAM & US) to capture priceless moments on the go.