HP always hits bottom-line customers with his amazing price tablet. HP announced a new 7 Plus tablet officially in USA with a $99.99 price tag.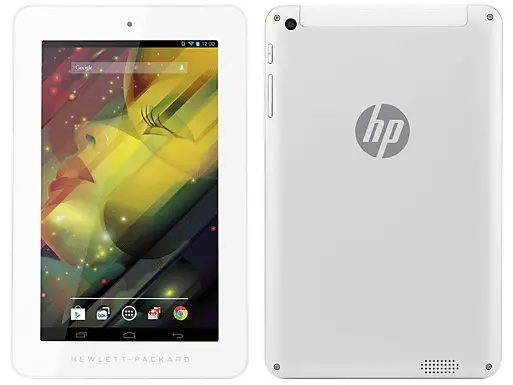 The low budget HP tablet has three variant models, namely HP Slate 8 Pro with a tag price $299.99, HP Slate 10 HD priced $279.99 and HP 7 Plus basic model at $99.99.
The latest low budget flagship HP 7 plus tablet measuring 7.58 x 4.8 x 0.32 in, boasts a Quad-Core ARM Cortex-A7 (1 GHz, 4 cores) processor alongside 1 GB DDR3 SD RAM. Running on Android 4.2.2, Jelly Bean, the tablet powered with 2800 mAh Lithium polymer battery, provides you up to 5 hours and 30 minutes backup.
Sporting WiFi 802.11b/g/n (Miracast compatible), the HP 7 plus tablet features 8 GB eMMC inbuilt storage, no word about users storage, memory can be extended upto 32 GB using a microSD card.
The tablet houses microphone, along side 3.5mm headphone jack. The HP 7 plus is currently available in only silver colour variants.
The HP 7 Plus tablet has 7″ diagonal WVA IPS multitouch-enabled display with 1024 x 600 pixel resolution. The tablet has not focused on its camera side, only 2 MP fixed focus rear-facing and 0.3 MP fixed focus front-facing camera is available for video calling.
Measuring 7.58 x 4.8 x 0.32 in dimensions, with 0.65 lb weighs, HP 7 Plus is right choice in $99.99. It is also worth mentioning that the tab has a Accelerometer sensor.
From entertainment side, the phone sports a mono speaker. The manufacture claims 1-year limited hardware warranty, toll-free technical phone support, 30-days free limited software support (from date of purchase).
Google Search, Google Voice Search, Gmail, Google Sync, Google Talk, Chrome Browser, Google+, Google Maps, Google Street View, YouTube, Google Play Store, Google Play Books, Google Play Music, Google Play Movies & TV, Google Play Magazines, Kingsoft Office, HP ePrint, HP Connected Photo powered by Snapfish, Skype, Box (25 GB cloud storage), HP File Manager are pre-loaded applications you are going to get in HP 7 Plus tablet.
7.58 x 4.8 x 0.32 in size, Quad-Core ARM Cortex-A7 processor with 4 cores cloaked at 1 GHz, weight  0.65 lb, 2MP front facing camera, WiFi enabled 7 Plus HP tablet is priced at $99.99, in indian currency only Rs 5849, not a bad choice.
In my reviews HP 7 Plus tablet , full of features, and specifications (specs) are quite right at low budget, will hit the store and crash the Android tablet market soon. However, there is nowhere mentioned in HP official website that it is 2G or 3G phone.